Sea Start Online Shop
Diesel Fuel Complete 500ml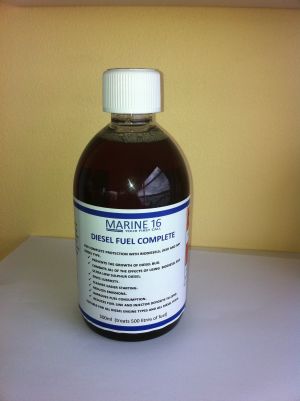 Used continuously DFC will completely prevent loss of power from fouled injectors. Over 250 ltr of fuel usage even pre-existing deposits are completely removed. As injectors are cleaned and power restored fuel consumption will improve. Eliminates steel corrosion. Upgrades cetane value by plus three for easy starting and cleaner burn. Contains extra lubrication. Does not interfere with the performance of other additives used in diesel fuels. Contains a demulsifier to drop out water contamination prior to fuel reaching the engine. Reduces smoking and gives easier starting. The more efficient combustion due to clean injectors reduces emissions considerably. For use with all diesel fuels including mineral bio-diesel blends. DFC also contains sufficient Diesel Bug Treatment for preventing the growth of spoilage organisms in diesel fuel. New DFC gives zero deposits in the fuel system. Completely no harm tested.
Due to safety reasons this item is sent by a next day courier service.
If multiple items are required please call the Sea Start office 01489557364 for stock and delivery prices
Updating...