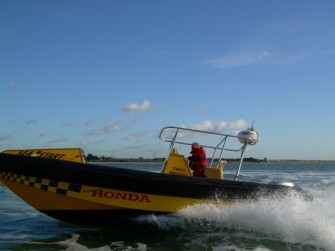 As reported in our last E-Newsletter, the build for the new Sea Start RIB was well underway.
The new RIB has now joined the fleet at Hamble and is in active service attending breakdowns. Powered by twin Honda 135hp engines and capable of 45 knots, with striking yellow and black livery, the RIB is already turning heads in and around the Solent, raising the profile of Sea Start and Honda.
In the past, all of our main offshore boats have been diesel powered so this will be a major change for Sea Start. The Honda 4 stroke engines will give us reliability and keep our maintenance and repair costs down. In order for the boats to be coded 20 miles offshore unrestricted, we have to have a cabin which is the reason for the wedge-shape at the front.