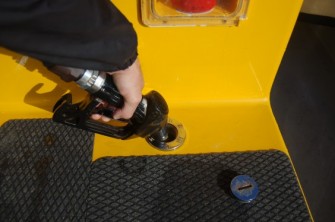 From 1st January 2011 all gas oil sold for inland waterway vessels and recreational craft when used on inland waterways, must contain no more than 10 milligrams of sulphur per 1 kilogram of fuel, virtually 'sulphur free'.
Gas oil for sea-going marine use is not required to be 'sulphur free'.
The Solent is currently classified as an Inland Waterway. However, discussions by the relevant authorities, are currently taking place as to the clarification of this classification.
It is not anticipated that suppliers of marine fuel will switch to 'sulphur free' but you may wish to check with your supplier.
Fuel suppliers will meet the new requirements by supplying road diesel for use in non-road equipment. This will have a red excise marker dye added for non-road equipment use.
Duty rates applicable to gas oil are not affected by the introduction of 'sulphur free' gas oil.
Road diesel contains up to 7% of biodiesel.
By 1st January 2011 much non-road equipment gas oil is also likely to contain biodiesel. Biodiesel blends of up to 7% are compatible with existing non-road equipment provided good housekeeping arrangements have been adhered to in the storage of fuel.
Increased care will be required in the storage of sulphur free gas oil, where this contains biodiesel.
Recommendations are:
Examine fuel systems following the change to the new fuel, replace any leaking seals or pipes.
Replace fuel seals and pipes as a precaution if you are having old machinery serviced.
Replace fuel filters after the first 2 to 3 tankfuls of the new fuel.
Remove all water from tanks and conduct monthly checks to ensure they are free of water.
Biodiesel will be more prone to bacterial contamination than current gas oil. Bacterial growth can potentially result in blockage of fuel filters and increased corrosion. Bacterial outbreaks can be addressed by either emptying and cleaning the tank or by tackling the outbreak with biocide additives and filtering.
Tanks that do not have drain points for removing water are likely to need modification. Examine sight gauges on older fuel storage tanks for sings of leakage and replace any leaking seals.
If you are having tanks serviced before using the new fuel, it is advisable to replace fuel seals as a one-off precautionary measure.
Ensure the content of the tank is turned over every 6 months or in any event, no less often than every 12 months to help prevent blockage of filters. The oxidation stability of this fuel is poorer than that of current gas oil. Over time, oxidation can precipitate solids with potential to block filters.
'Sulphur free' gas oil containing biodiesel, is a better solvent than current gas oil and as a result, it may pick up deposits already in fuel storage, dispensing systems and in fuel tanks in non-road equipment. To prevent these deposits from blocking filters, a one-time replacement of storage tank and non-road equipment fuel filters, outside the regular service interval, after 2 to 3 tankfuls of 'sulphur free' gas oil, is recommended.
Further advice is available here.