Marine breakdown service company Sea Start has placed an order for a number of new RIBs from Cowes-based Island RIBs to add to their south coast-based fleet.
Sea Start's Managing Director Nick Eales explains: "2019 was a very busy year for Sea Start and we have seen a significant rise in our breakdowns amongst our members.  To cope with the increased number of call-outs and to keep our boats fully up to date we have made this decision to invest in the new RIBs for 2020."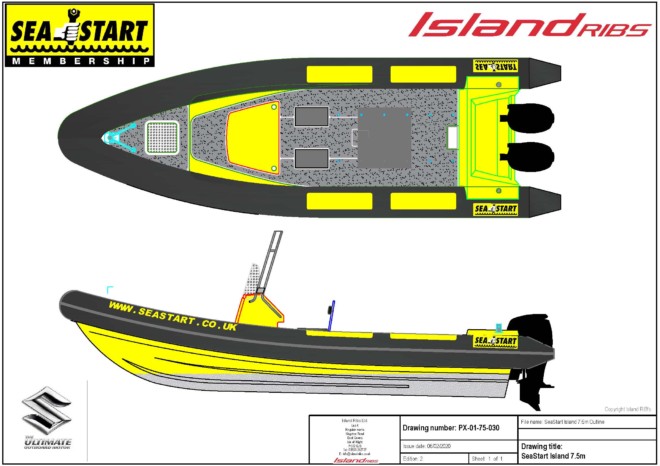 The new order is for Island RIBs' 7.5m models, which Sea Start chose for their excellent sea keeping abilities and performance as a stable platform.  They are therefore ideal for attending yachts and motorboats at sea whose engines have broken down.  The RIB is also very well designed for towing.  Nick Eales adds: "We have looked at many different manufacturers while assessing build quality and attention to detail.  The Island RIB also came highly recommended by other users."
Sea Start has used a range of commercially capable RIBs and rugged service vessels over the years, including a number which the company built themselves to ensure that they were strong and stable enough to cope with the rigours of towing.
The new RIBs will be powered by Suzuki outboards as Sea Start continue their successful partnership.  Nick Eales says: "Suzuki's outboard engines have provided incredible reliability over the large number of hours that they are in use."
Sea Start will take delivery of the first RIB in April 2020 which will operate out of the company's central base at Warsash in the central Solent. As a result, boats from the existing fleet will be deployed to other Sea Start centres along the coast. The RIB will sport Sea Start's unmistakable and eye-catching black and yellow livery.
Sea Start provides fast-response marine breakdown service to sailors and motor boat owners on the south coast of England and shoreside service on the north coast of France and the Channel Islands. As well as engine breakdown service an annual subscription to Sea Start also covers freeing fouled propellers, and gives technical advice to members by phone.