About Us
Since 1994 Sea Start has been owned and managed by Nick Eales, an enthusiastic sailor formerly in the Royal Navy. Since its foundation our service has grown significantly, supported by experienced, courteous and helpful staff. Today, Sea Start runs a fleet of fast, reliable craft, employs a number of trained marine engineers and operates in an ever-expanding area along the South Coast and English Channel. Below is some information about our fleet.
Sea Start Rescue Boats
Sea Start 1 (Le Shed)
This is our all weather RIB and has a hull length of 7m and is 8.2m overall. It is powered with two 150hp Suzuki Lean Burn 4 stroke petrol outboards and has a top speed of 45 knots and can hold 400 litres of fuel. It is our newest RIB and came onto our fleet in 2011 and is otherwise known as Le Shed because of its unusual wheel house design. It is berthed at Lymington Yacht Haven and is the best choice to use in the cold and bad weather.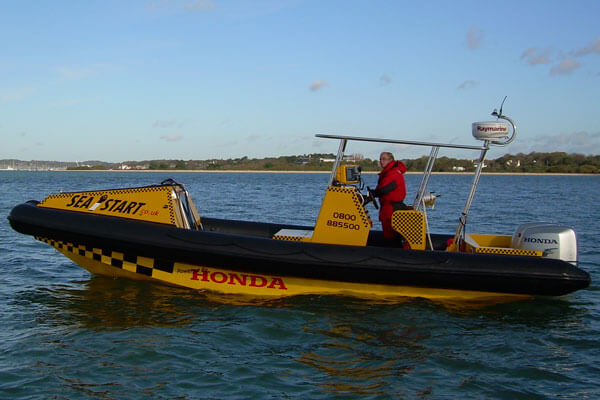 Sea Start 3
This RIB was produced by us in 2009 using the same hull size and mould as Sea Start 1. It is an open design but has a bimini  top to keep showers off and provide protection from the sun. It is powered by two 135hp Honda 4 stroke engines and has a top speed of 40 knots and can also carry up to 400 litres of fuel giving both RIBs a good range. It also has a cabin for shelter and storage and the whole boat is designed to carry tools and equipment. Sea Start 3 is kept at our head office on the Hamble River and  has proven to be the best all round RIB of our fleet being quick, spacious with great manoeuvrability.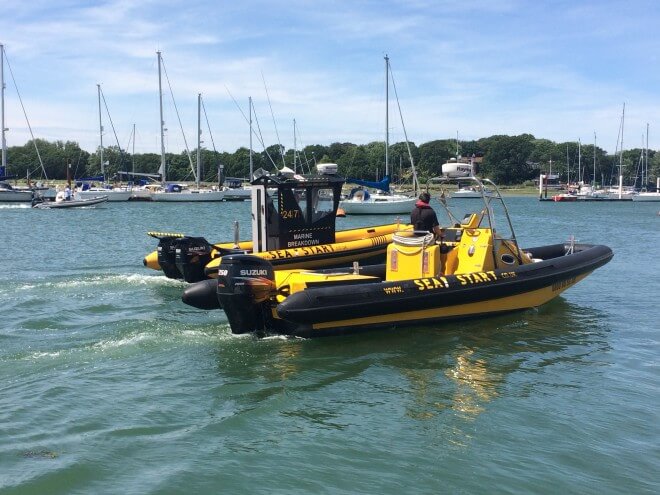 Sea Start 4
Produced in 2006 using the hull mould which made Sea Start 1+3 but is longer at 8.5m overall and a hull length of 7.5m. It is powered with a single 250HP Suzuki Outboard fitted in 2014 with a top speed of  40 knots.  It too is designed with storage and equipment in mind and has proven to be a great workhorse for us. This trusty RIB is kept at our head office in Warsash  with Sea Start 3 for company.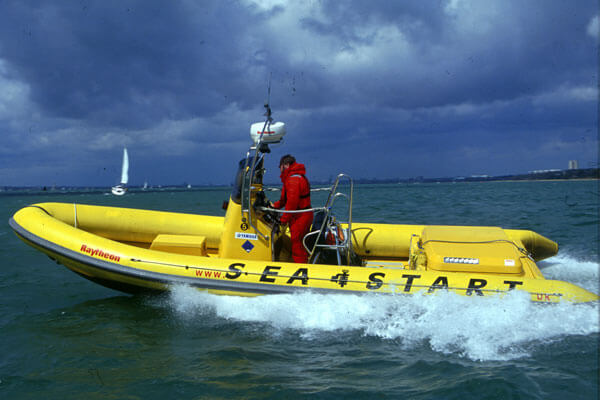 Sea Start 5
Produced in 1998 on a Ribtec hull it is 7.8m long and is powered by a 175hp diesel Yamaha engine. This RIB has proven over and over to be one of the most reliable and rugged boats of all as well as the cheapest to run. It may not be the quickest with a 36 knot top speed or the most spacious for storing equipment but is a dream to handle and great for towing. You can now see it at Chichester Marina and she patrols Chichester Harbour which suits this boat perfectly.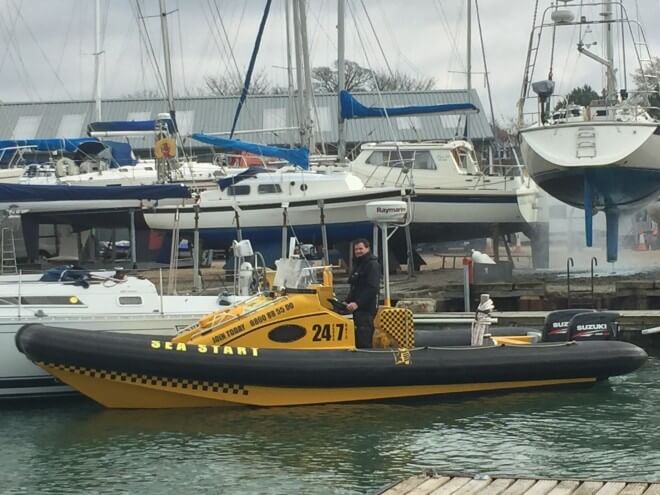 Seaweed III
Made in 2006 Seaweed is powered this time by twin 100hp Suzuki engines and spends most of its time patrolling Poole Harbour and she is berthed in Salterns Marina, Poole. It is suited to this area as the outboards suit the shallow waters in Poole Harbour but is still a capable RIB in bigger seas outside the harbour.